Portuguese lawyer named "Lawyer of the Year" by the American Directory Best Lawyers in Noticias de Vila Real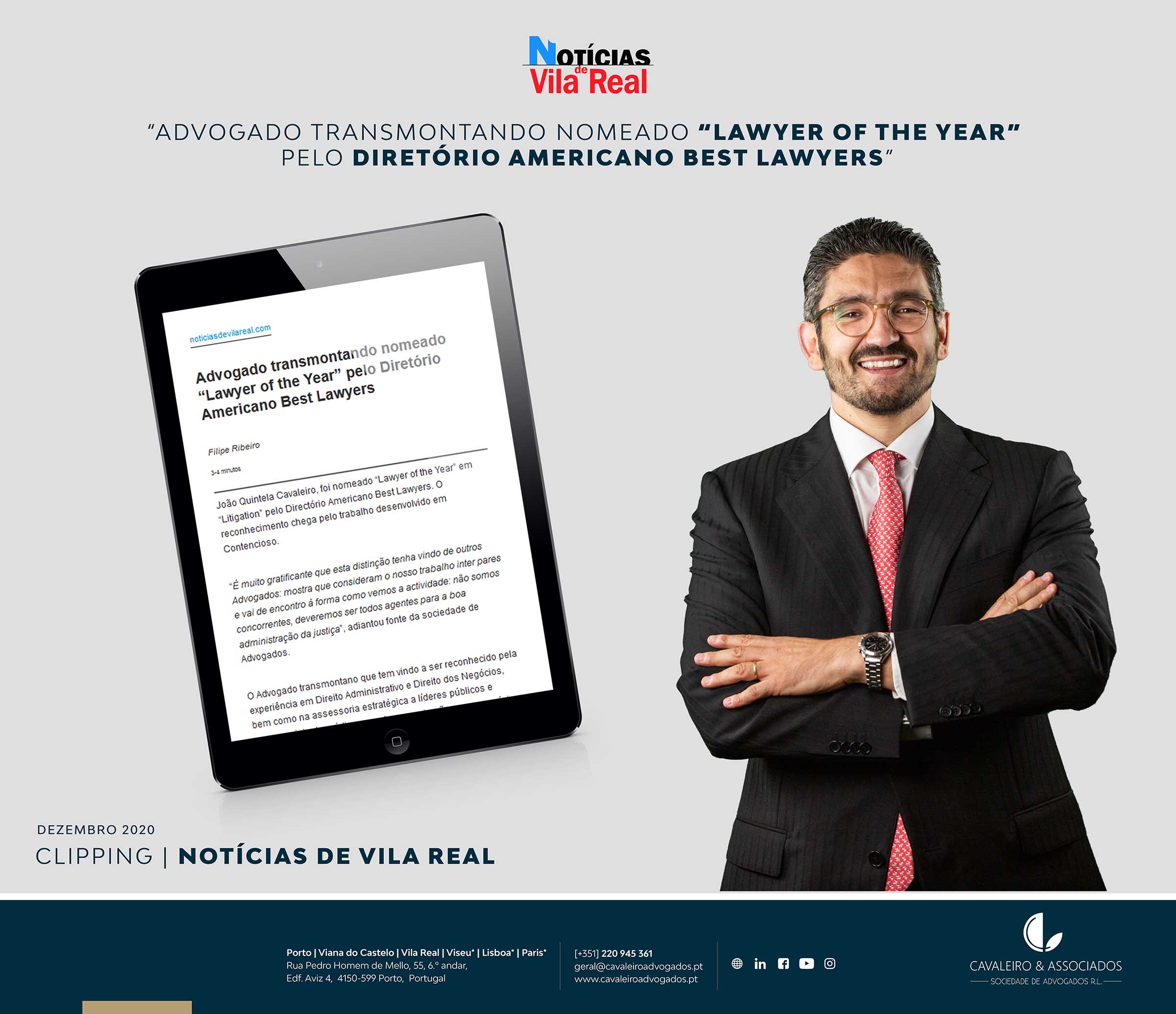 João Quintela Cavaleiro, was named "Lawyer of the Year" in "Litigation" by the American Best Lawyers Directory. The recognition comes from the work developed in Litigation.
in Noticias de Vila Real (Dezembro 2020)
"It is very gratifying that this distinction has come from other Lawyers: it shows that they consider our work to be in pairs and goes against the way we see the activity: we are not competitors, we should all be agents for the good administration of justice", said a source of the law firm.
The Trás-os-Montes lawyer who has been recognized for his experience in Administrative Law and Business Law, as well as in strategic advice to public and business leaders of medium, large organizations and in emerging businesses, now sees his work highlighted in judicial and arbitration disputes.
He was distinguished alongside the best national references, such as in Criminal Law, the chosen one was Benfica Lawyer João Medeiros, in Administrative Law, Prof. Rui Medeiros from Sérvulo.
Júdice, José Eduardo Martins da Abreu won the title of Lawyer of the year in Environment and Mergers/Acquisitions for João Vieira de Almeida, CEO of Vieira da Almeida.
Although João Quintela Cavaleiro's activity is also centered on Corporate advising in national and international operations, in a role of strategic legal advisor, Litigation is part of his DNA. "We never face a fair fight, especially because of the ability we have had to anticipate which solution will best safeguard the interests of the final party" says the Lawyer.
He adds that the first word goes to the team, spread over 4 offices in Portugal, "without which none of this would be possible. In such a complex moment, each of our Lawyers has done its best in the matters we have in Portugal or in the 4 corners of the world where matters are monitored. Just a piece of ordinary gear. The best of our pride."
Ler noticia completa: https://bit.ly/3qXkEmg