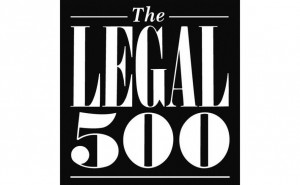 2015年度"法律500强"(欧洲、中东与非洲)

'Attentive and hardworking' founding partner João Quintela Cavaleiro, together with Pedro Seixas Silva, advised a Portuguese Company on its joint venture with an Algerian food processing group."

About the Legal 500 EMEA
The Legal 500 is one of the most important international directories, which has been since the last 27 years from London sorting the best lawyers in the world.

The rankings are based on a wide range of criteria: it is necessary to prove the high technical capacity of lawyers and law firms, being also relevant the complexity of the issues, the volume of the operations, the lawyers of the counter parties and the feedback of 250 thousand customers worldwide.
The survey is fully independent and based on a research team which relies on these criteria of excellence.